---
 
It was Don Watts, my friend and former colleague in Australia's Bureau of Mineral Resources (now Geoscience Australia, but we are going back fifty years here) who put me on to this.
Don is a fan of Patrick O'Brien's Napoleonic wars novels, chronicling the deeds and disasters of Captain Jack Aubrey and his close friend, the part–Catalan ship's doctor and scientist Stephen Maturin. We are already getting a feel here for being in the world of the Uranie.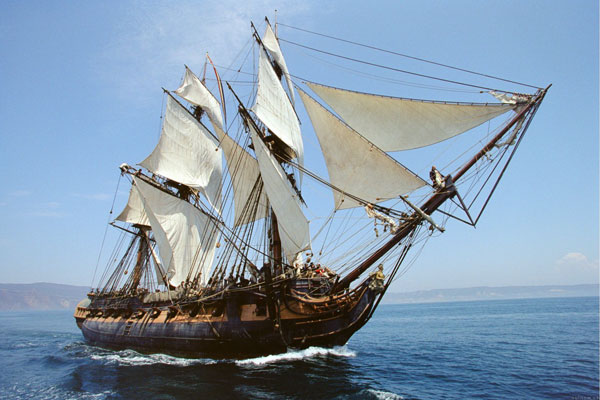 The Surprise (Photograph by: Admiral James Kaizer)
Many of Aubrey's adventures take place on a frigate launched as French l'Unité but captured by Aubrey and taken into the Royal Navy as the Surprise. There really was such a vessel, and a replica of it was used in the filming of 'Master and Commander', based on the Jack Aubrey novels. Don has spotted that this ship was almost exactly the same size as the Uranie. The same tonnage (350) the same length (129 ft upperworks, 108½ ft keel), the same beam (31⅔ft) and the same draught (14 ft). The plans of the 'Surprise' reproduced below are remarkably similar to those of the Uranie shown on the website of the Western Australian Museum.
Plans of the Unité/Surprise
There is a striking resemblance to the plans of the Uranie that can be found on the website of the Western Australian Museum



The close resemblance is actually rather surprising, because the Unité was commissioned into the French Navy in 1794 and the Uranie was not launched (as the Ciotat in the port of the same name) until 1811. She was originally described as a gabare, a vessel also widely used in commerce, and that may explain the design's apparent longevity. The replica used in the film was originally built as a replica of the HMS Rose, which was launched in 1757, but its transformation required little more than a new coat of paint.
If you happen to be in San Diego you can actually go on board the replica, and get some idea of what it must have been like for Rose de Freycinet to share that space with 130 men for months on end.
---