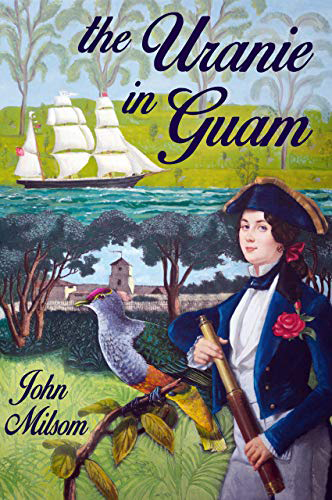 The Uranie in Guam: A surgeon, an artist, a captain and his wife in the Spanish Pacific in 1819

by John Milsom ©2019

In March 1819 the French corvette Uranie let go its anchor in Umatac Bay in southern Guam, at the half way point in what was intended to be a scientific circumnavigation of the globe. The event was recorded by the captain's wife, Rose de Freycinet. 'The Lord be praised', she wrote in a letter to her mother, and with good reason. Supplies were running low and many of the crew were ill, with scurvy, malaria or dysentery, and the ship remained in harbour for almost three months while waiting for them to recover. Rose was not ill herself but for her the long stay ashore was a more than welcome escape from a cramped and restricted existence on a rather small sailing ship that she shared with a hundred and forty men.
Product details
Format: Paperback Edition
Print Length: 234 pages
Publisher: Independently published (31 July 2019)
Sold by: Amazon
Language: English
ISBN-10: 1086303032
ISBN-13: 978-1086303032
Product Dimensions: 15.2 x 1.5 x 22.9 cm
Format: Kindle Edition
File Size: 8929 KB
Print Length: 309 pages
Publisher: Gladestry Associates Publishing (9 Jun. 2019)
Sold by: Amazon
Language: English
ASIN: B07STVW1L7